Charitable Organizations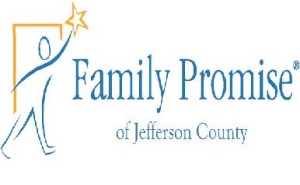 Building Community, Strengthening Lives
---
Our Mission
Family Promise of Jefferson County — people of faith working together to provide homeless families with HELP for today and HOPE for tomorrow!
Who We Are
Family Promise brings shelter, meals and support to families without homes.
Family Promise serves family with children without regard to race, religion or age. Families may stay in the network 45 to 90 days providing they are adhering to guest guidelines and making progress in their own efforts toward self-sufficiency.
When we choose to step up in faithful service, we can make a difference in the lives of families.

Why We're Here
Families are the fastest growing segment of the homeless population.
Over 40% of the U.S. homeless population are families with children.
One out of every five children live in poverty.
Twelve percent of families in the United States are only two paychecks away from becoming homeless. That is one in nine adults, and one in six children.
The average age of a homeless person in the Unites States is 9 years old.
Half the guests at Family Promise networks are children, most are under six.
Family Promise Participation
There are five parts to Family Promise:
Host Congregation — About five times a year, for one week at a time, host congregations provde overnight lodging, meals (supper, breakfast, and bag lunch) and hospitality. Hosting rotates among congregations, which provide lodging for three to five families (up to 14 individuals) from 6 pm to 7 am the next morning.
Volunteers — Volunteers cook, serve meals, play with children, help with homework and stay overnight. They interact with guests, treating them with respect and responding with compassion.
Social Services — Local agencies screen guests and refer families to the network. They may help guests find housing, jobs and government assistance. Guests are screened for active substance abuse and psychiatric problems.
Day Center — Guests use the local day center from 8 am to 5 pm to shower, care for pre-school children, and seek employment. Many guests are employed and go to work during the day. During the school year, children go to school.
The day center provides guests with a mailing address and a home base from which to conduct their housing search.
Transportation — A van transports guests to and from the day center. The van also carries beds and luggage to the next host congregation.
About Family Promise
Family Promise of Jefferson County is a network affiliated with National Family Promise.
Family Promise has:
Over 161 networks in 44 states and the District of Columbia
Over 60 new networks are currently forming
More than 5,000 congregations and 110,000 volunteers are involved in Family Promise Programs
In 2004, 80% of guest families found housing
More than 130,000 guests have been assisted by Family Promise.
For more information, contact Family Promise of Jefferson County at 920-674-5210.
Participating Congregations
Christ Lutheran Church
Lake Mills, WI
Rock River Assembly of God
Jefferson, WI
First United Methodist Church
Fort Atkinson, WI
Immanuel United Methodist Church
Jefferson, WI
St. Luke's Lutheran Church
Sullivan, WI
St. Joseph's Catholic Church
Fort Atkinson, WI
St. John's Lutheran
Johnson Creek, WI